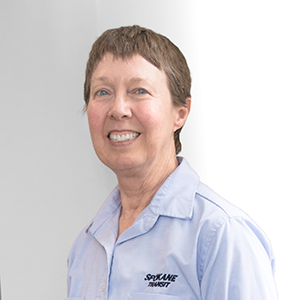 Claudia Davis, Spokane Transit Authority
MVC - Walks April 2017
Employer: Spokane Transit

Claudia Davis has been a Fixed Route Coach Operator for Spokane Transit and has worked for STA for 39 years! She began carpooling in the early 90s when a co-worker encouraged her to give it a try. He was willing to accommodate her schedule, and they carpooled until the time he retired. Claudia now works a shift that is prior to the buses running in her area. So, now she carpools with her husband in the morning and walks the 3 miles back home nearly every day!

Claudia says walking is a great stress reliever! It benefits her both physically and mentally. It gives her some exercise and also gives her time to clear her head. She enjoys the walk through the neighborhoods and taking in all the beauty we experience here in Spokane with the changing seasons.

The seasonal weather in Spokane doesn't hold her back. During the cold winter months, she'll just bundle up, throw on her boots and enjoy the brisk air. In the warmer months, she just enjoys our beautiful spring, summer and fall days!

She does try to encourage other employees to use commute alternatives. Although she hasn't converted anyone to walk to work, she has encouraged other drivers to walk from the Plaza downtown to the bus barn on Boone. If she gets any pushback, she'll remind them that it's only a 15-20 minute walk AND they'll get their exercise!
Since logging her trips on MyCommute.org in 2010, Claudia has walked to work 863 days, totally over 5,100 miles and nearly 10.5 million steps!

ETC, Stacia Bowers says "Claudia really enjoys walking and people know who she is will always see her with a smile on her face".