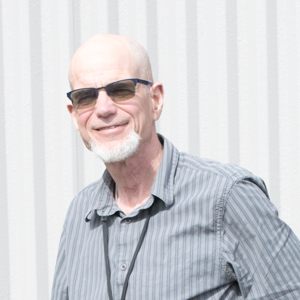 Richard Washington, WA State DSHS DCS
MVC - Bicycles February 2017
Employer: WA State DSHS DCS

Richard is (or was) a Support Enforcement Officer 3 for the Division of Child Support. Richard has been riding his bike to work for the last 31 years! During that time, he had a nearly 12-mile round-trip commute from the South Hill.

Richard enjoys riding his bike. He's not only a bicycle commuter, he enjoys riding on the weekends as well. It's great exercise, helps to clear his mind and gives him a boost and makes him feel energized. It also helps to ease traffic congestion and improve our air quality.

As the previous ETC for DCS, Richard felt it was important for him to set a good example. Currently their ETC is Maria Washington, Richard's wife! She will occasionally ride her bike to work as well, but admits she's not as comfortable riding in traffic as Richard. It typically takes her a little longer getting back home, riding through the neighborhoods. On occasion, Richard has come back to pick her up, saving her from climbing the hill.

Not much slows down Richard. He'll bike in almost all weather conditions! A few years back, Richard battled cancer, not even that could stop him. He rode his bike to his first treatment!

Richard owns 4 different bikes, and refers to them, as "his babies".

Richard has helped the DCS staff with bicycle repair and encouraged them to ride to work. After he retires, he will start rebuilding bicycles and donate them to needy kids.

Since began logging his trips on MyCommute.org in 2010, Richard has ridden his bike nearly 2,000 times reducing over 23,000 miles!

ETC, Maria Washington states "Richard has been a role model for commute alternatives for many, many years! He truly inspires others and "walks the talk" every day! Way to go Richard!