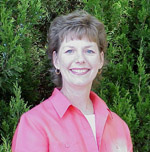 Linda Williams
All Star Coach September 2004
Employer: Avista Corporation
Occupation: Executive Assistant & ETC

With strong management support, Linda Williams markets many CTR benefits to over 800 employees including preferred parking, bike racks, showers, bus subsidies, a guaranteed ride home program, dry cleaning service, an on-site credit union, cafeteria, monthly prize drawings, flex schedules and an Avista owned hybrid vanpool that currently has 8 riders.
Walking her talk by carpooling to work, Linda sets a positive example for her employees. To further encourage employees to participate, Linda offers her car to any employee who uses a commute alternative and needs to run an errand during the day. Although she doesn't get many takers, it fosters positive reinforcement of the CTR program.
"CTR is part of our corporate culture," stated Linda. "Everyone knows about our program and employees get excited when they help." Linda is an enthusiastic supporter of countywide events and campaigns. During the Smart Moves campaign, Linda hired an Elvis impersonator to sing during lunch. The cafeteria was packed with employees and she used the opportunity to give away prizes to employees who used commute alternatives. Way to Go Linda!