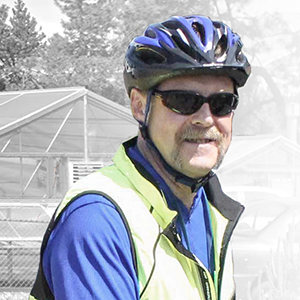 Mike Gribner, WS DOT
All Star Leader December 2016
Employer: WSDOT Eastern Region
Occupation: Regional Administrator

Mike sets a great example for his nearly 200 employees by riding his bike almost every day with a 24 mile round trip commute. Although occasionally, Mike will carpool, he prefers to ride his bike.
He started riding his bicycle to work in the early 90's before people thought much about using alternative modes of transportation. Mike says he just loves to ride!

Mike feels that it's great exercise, helps him manage his stress, has saved him a lot of money and after he's home, he's done with his exercise and gets to enjoy the rest of his evening. Plus, helping the environment is an added bonus!

While weather can sometimes be a challenge and needing formal apparel or having to travel can keep him from riding. Mike doesn't feel he has any obstacles to overcome when it comes to riding his bicycle, it's simply how he gets to work. Since he began logging his trips on MyCommute.org, Mike has logged nearly 800 bicycle trips totaling over 19,000 miles!!!!

Mike believes the CTR culture is very accepted and encouraged by management and says that WSDOT Headquarters in Olympia provides great support for the CTR program.

His ETC, Jana Augenstine, says "I am grateful for Mike and his positive outlook on CTR. He wants our worksite to have a good CTR program. His job is extraordinarily busy and stressful, but he still figures out how he can ride his bike nearly every day. Seeing his example and our employees knowing that says more than I can say in a month of CTR updates!"

Way to Go Mike!