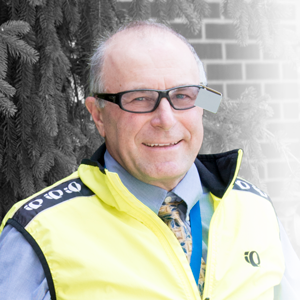 Frank Otto, MD, Providence Sacred Heart Hospital
MVC - Bikes, Walks and Carpools July 2016
Employer: Providence Sacred Heart Medical Center
Occupation: Cheif Medical Inforamation Officer

Frank Otto, MD is the Chief Medical Information Officer at Providence Health Care. Typically he uses a commute alternative 1-2 days per week due to travel and meeting requirements for his profession.

While riding his bike to work is always his first choice, when there is stormy weather, he typically carpools with his wife or walks the 1.2 miles from home.

Frank has been using commute alternatives to get to work for the last 10 years and feels he's a good steward for the environment. He feels fortunate because the routes he takes have great views of awesome trees and gardens. Occasionally Frank extends his commute home with a 10 mile loop he created.

He says riding his bike helps clear his mind, is a great way to get in his exercise and is a great transition from work to home. This also helps him avoid parking challenges at Sacred Heart, and he always has a safe place to park his bike… in his office!

Although Frank and his wife share one car, he doesn't see that as a problem. His biggest challenge is his schedule and the many meetings he must attend. Frank encourages his coworkers to lead "active" lives and will share with them his commute experiences when asked.

His ETC, Lori Barschig, stated "Dr. Otto completes his calendar on MyCommute.org each month and is a very deserving Most Valuable Commuter"!
Way to Go, Dr. Otto!