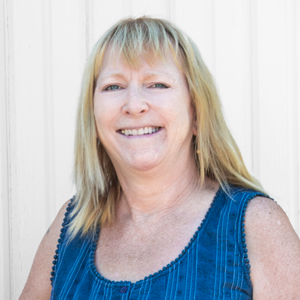 Kimberly Ritchey, Providence Holy Family Hospital
MVC - Bicyclist September 2016
Employer: Providence Holy Family Hospital
Occupation: Nurse

Kimberly is a nurse in the Acute Care Unit at Providence Holy Family Hospital where she's been riding her bike to work every day for the last 11 years. She starting in the early 90s while living in Denver, CO and continued even after moving back to Spokane. Although she's only been at Holy Family for 3 months and commutes 2 miles, previously she worked at Deaconess Hospital and commuted nearly 4 miles.

She loves riding her bike! Why? It's fun, feels great, gives her a sense of freedom, it's heathy, relaxing, eco-friendly and free front door parking almost anywhere she goes! Kimberly owns 5 bikes, all for different purposes; grocery shopping, errands, short trips, etc. It's a lifestyle she's chosen and LOVES! She's even toured 9 different countries on her bicycle by herself! Quite an achievement!!!

Kimberly's only challenge is the occasional icy Spokane weather. She did go 7 years without a car but now owns one and only takes it out about twice a month – on paydays to do her bulk grocery shopping. She proudly admits that she can haul a 50lb bag of dog food or a large bag of compost on her bike.

She appreciates the safe, secured bike cage Holy Family provides and encourages her fellow co-workers to bicycle as well. She says "it doesn't have to be complicated or expensive, you'll realize how wonderful it feels riding your bike."
ETC, Lori Barschig, stated "Cycling, working a compressed work schedule and 20+ years of bicycling enthusiasm = a Most Valuable Commuter"!
Way to Go Kimberly!