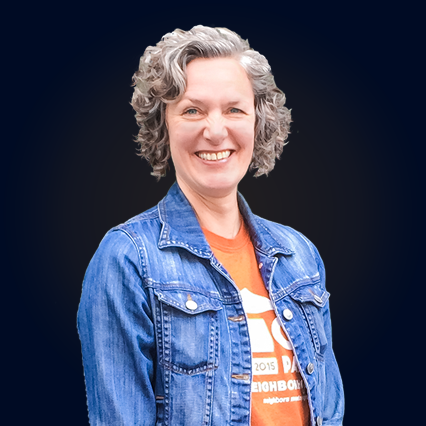 Kaaren Goeller-Bloom
Rides Her Bicycle August 2015
Employer: Gonzaga University
Occupation: Administrative Assistant

Kaaren works for Gonzaga University as administrative assistant in the Student Development office. With a 3 mile one way commute from the south hill, Kaaren rides her bike every day to work and when the weather isn't favorable she'll either walk or carpool with her husband.

Originally Kaaren started bicycling because she felt the need to lighten her environmental impact. However now she feels it's the best way to start and end her day and it's a great way to integrate exercise with her commute.

Kaaren has come to think of her commutes as mini journeys she gets to take every day. Her ride to Gonzaga takes her through Riverfront Park where she enjoys interacting with people. Seeing the sights she wouldn't see in a car and appreciating the beauty of the park and river are also top on her list. Using her bicycle for her commute, she feels she's really gotten to know her city better.

For Kaaren only two things really presented a challenge when it came to commuting by bicycle, the weather and transporting her daughter to her after school activities. Fortunately for Kaaren, her husband has a flexible work schedule giving him the ability to take their daughter to her activates, leaving Kaaren able to ride everyday like she does now and that's something she's very thankful for!

Gonzaga's ETC, Jim Simon, states, "When I and others see her arrive or leave, we are greeted with a smile and a tip of her helmet, creating a positive vision of what commuting by bike can look like in Spokane."

Way to Go Kaaren!