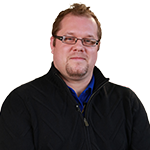 Josh Potter
Vanpooler - All Star Coach June 2015
Employer: Fairchild Air Force Base

Air Program Manager, Josh Potter has worked for FAFB for the last 4 years. Currently, Josh has over 3,100 CTR affected personnel and currently has over 200 active participants in his program.

Not long after Josh started working for FAFB, he began riding the bus. With a 26 mile one way commute, Josh felt that it just made sense to find another way of getting to the base instead of driving alone. Josh had been riding the bus for about a year when he found a vanpool that worked with his schedule.

Vanpooling worked perfectly for Josh and has since become a major component in his CTR program. FAFB backs Josh and his CTR program and currently subsidizes up to $130 a month for both vanpooler & transit riders. Thanks to Josh, his program helps reduce about 40,000 SOV miles and over 36,000 lbs. of CO2 each month and he currently has 18 vanpools and 101 riders.

When it comes to being an ETC, Josh enjoys networking and sharing ideas with the other ETC's. But some of his most favorite moments are when personnel let him know how much they enjoy and see the value in the CTR program. There have even been times when personnel have sought Josh out just to make a special point of letting him know that they're ridesharing, even if it's only for one day!

Josh has said that his greatest challenge as ETC is getting the message out to all personnel. But he is persistent and attends their "Right Start Orientation" which allows him to meet face to face with personnel to talk about his program and all the benefits they receive by participating. One of Josh's proudest moments was last January at the Way to Go Awards Luncheon held at the Davenport Hotel when he received the All Star Team award.

Josh's Words of Wisdom: "Be diligent. Promote to employees as well as your leadership or management, it enables a stronger program".