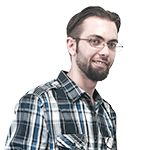 Andrew Longhofer
Bus Rider April 2015
Employer: Alorica
Occupation: Customer Service

Andrew works in customer service and represents Payflex for Alorica at their Valley location. Because he's never owned a car, Andrew has ridden the bus for most of his life. This includes his 9 years of work related commuting. When Andrew first began looking for a job, it was riding the bus that allowed him to expand his employment opportunities to companies outside of his immediate area.

Currently, Andrew lives on the north side of town with a 15 mile one way commute. The walk to his bus stop is about 6-8 minutes; from there he has about another hour and a half ride on the transit system to get to work. But thanks to Alorica allowing flexibility in his work schedule, Andrew is able to ensure that riding the bus works for him and when it doesn't he carpools with a co-worker.

Andrew enjoys the money that using a commute alternative saves him and the fact that he's not contributing to pollution that driving alone causes. When asked about any challenges, Andrew stated "I don't really have any… it's just what I do." Although he did admit to some anxiety dealing with strangers while on the bus, usually Andrew says that he'll just put on his head phones and listens to music or read a book.

Alorica ETC, Dana Blakesley, said "Andrew encourages co-workers to ride the bus rather than having to rely on others to provide transportation for them. He even became a "bus buddy" for a co-worker who had lost reliable transportation and was afraid of riding public transit. And although it added extra time to his already 2-3 hour commute, Andrew still rode with her until she was able to purchase a car"(If that story sounds familiar, it's because last quarter his co-worker Brandi Newingham, who Andrew was a bus buddy for was also a Most Valuable Commuter!)

Way to go Andrew!