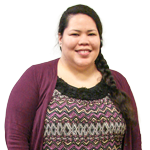 April Manglona
All Star Coach March 2015
Employer: The Davenport Hotel
Occupation: HR Coordinator

April Manglona is the HR Coordinator for the Davenport Hotels and has been the ETC for nearly 4 years. She has approximately 700 employees within the 3 hotels. The Davenport started out as a voluntary worksite and has grown to the point that they're now CTR affected.

April walks her talk by walking to work every day. Living within a mile of her workplace, it just makes sense. "I enjoy walking to work, not only does it save me money, but I'm also helping the environment" stated April.

The Davenport Hotels offer transit subsidies, bike storage, lockers and has a $25 gift card giveaway each month. April personally meets with all the new hires and explains their parking challenges/costs and encourages them to use commute alternatives. She currently has over 100 employees participating in her program. She provides hard copy calendars for those employees who do not have computer access, and enters their trips for them on MyCommute.org.

Her proudest CTR moment was receiving STA's Transit Award at this year's WTG Awards event for her increase in bus pass sales. She's nearly doubled her bus pass sales to 90 per month. Up from 30-60 last year.

Her words of wisdom: "Be consistent & passionate. Get to know your employees. Knowing their lifestyle and challenges allows you to be understanding and helpful" Way to go April!