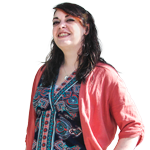 Brandi Newingham
Bus Rider February 2015
Employer: Alorica
Occupation: Operations Team Supervisor

Brandi Newingham is an Operations Team Supervisor for Alorica (formerly known as West Corporation). She has a 9 mile one way commute and has been riding the bus every day for the last 4 years. She actually was carpooling prior to that, but after the car broke down, had to find another way.

Her only other option was taking the bus, but as a teenager she had a traumatic experience on a bus in Tacoma WA, when the bus she was on was high-jacked and was held hostage. The fear of getting on the bus again was a huge barrier for Brandi. That is, until she met her "Bus Buddy" Andrew! Andrew is a co-worker and he agreed to help her "get back on the bus". He took her to get her first bus pass, rode the bus with her, held her hand and talked to her the entire trip into work. Brandi says "a lot of people are scared of the bus, but if you recruit a friend to ride with you, it makes it more enjoyable and both of you are now helping the environment"

She just recently bought her own car. And although she will continue to take the bus, she's now able to carpool with a couple other coworkers on Mondays.

ETC, Dana Blakesley says "Brandi is one of my biggest supporters of the CTR Program. Her enthusiasm is contagious". Way to go Brandi!