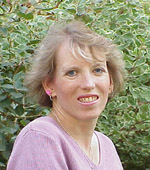 Michelle Runnels
Most Valuable Commuter May 2004
Employer: Sacred Heart Medical Center

Never feeling the need to get a drivers license, Michelle has taken the bus everywhere for 18 years. This includes trips to the mall, doctors' appointments, even to the grocery store. She walks the 8 blocks to her bus stop, rides to the Plaza, then enjoys drinking coffee and reading the paper while she waits for her transfer to take her to work. In nice weather Michelle will walk from the Plaza to Sacred Heart Medical Center.

Her total commute is about an hour but she says she "really enjoys taking her time, relaxing and chatting with her fellow bus riders." She even met her two best friends on the bus.

For Michelle, using transit is easy, convenient and inexpensive and said "even if I did own a car, I would still ride the bus."

Michelle assists Sacred Heart Medical Center's ETC, Lori Barschig by helping to distribute and collect money for bus pass sales. Lori says that "Michelle's dedication is truly an inspiration and she's an avid spokesperson for transit!" Way to Go Michelle!