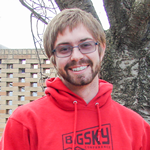 Brandon Nobach
Bus Rider December 2014
Employer: Avista Corporation

Brandon Nobach, an Avista Facilities Management (AFM) Editing Specialists for Avista is an avid bus rider. He has a 22 mile one way commute from Cheney and rides the bus every day and on the weekends since he doesn't own a car! He started riding the bus while he was a student, about 7 years ago, and continued doing so when he started working at Avista, 2 years ago. He says it's an easy way to get around and since most of his routes have 30 minute service, it's convenient and saves him $$$$.

His biggest challenges are the timing of some of the connections, but since he's a regular on the bus, the bus drivers will radio ahead to make sure he can catch his bus. He enjoys the time on the bus to relax, read a book or listen to music. It's his "down time".

This last October, Brandon encouraged one of his co-workers, who also lives in Cheney, to start riding the bus with him. Now his co-worker enjoys the savings as well. ETC, Catherine Cooper says "How refreshing is it to see a committed alternative user so early in his working career. His outgoing personality and helpful manner make him a wonderful ambassador for the CTR program". Way to go Brandon!