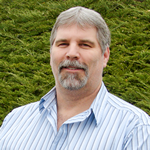 Mike Steinmetz
Carpooler October 2014
Employer: WA State Department . of Transportation.

Mike Steinmetz, the Equipment Technician Supervisor for WA State DOT – Eastern Region, carpools typically 2-3 days a week. He began carpooling nearly 12 years ago and has a 17 mile one way commute from the west side of FAFB. His carpool partner is also his brother in law. They live adjacent to one another, so Mike said it only made sense to start carpooling. It saves him money and he spends less on fuel and maintenance costs.

There is an occasional obstacle, with appointments or other personal errands that come up, but Mike says he and his carpool partner do pretty well planning ahead for these types of events and it is not a big deal at all. They also take opposite days off, so each one has a day to take care of such items if they need to. Mike's carpool partner works in Construction, so his schedule can get a little unpredictable during Construction season, but it isn't anything that they have not been able to figure out.

ETC Jana Augenstine says "Mike is a great asset to our CTR program. He likes carpooling and helps our new employees with our program and what it can do for them. I am very thankful to have Mike in my program" Way to go Mike!