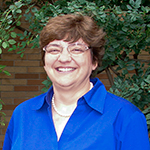 Lorrainna Sherman
Most Valuable Commuter July 2014
Employer: Avista Corporation

With a 32-mile one-way commute to work, Lorrainna Sherman, Project Manager for Avista, carpools to work with her husband three times a week. She appreciates reduced wear and tear on her car and the extra time with her husband. "Commuting not only saves money, it gives me time to focus on my day or unwind depending on which direction I'm headed," explained Lorrainna.

Just out of college and commuting into Washington D.C., parking was $6 a day and more than she could afford on her own. At the time the High Occupancy Vehicle (HOV) lanes required 4 people in the car. An ingenious solution to ensure 4 riders, Northern Virginia commuters created designated stops to pick up additional riders, and Lorrainna benefited from the win-win sophisticated form of "hitch hiking."

ETC, Catherine Cooper says, "Having carpooled in other large cities, Lorrainna brings to the Spokane community a broad understanding of the positive impact of carpooling. She is a shining ambassador for our CTR program." Way to Go Lorrainna!