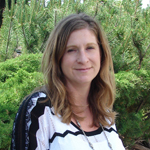 Staci Lehman
All Star Coach June 2014
Employer: Spokane Regional Transportation Council

Walking her talk, Staci Lehman, Public Education and Information Coordinator for Spokane Regional Transportation Council, consistently rides the bus to work 3 or 4 days a week and works a compressed work schedule. With no budget and limited CTR elements including showers, lockers and bicycle parking in a file room, Staci makes the most out of what she receives from the CTR Office.

Participating in every campaign, Staci keeps it fun by highlighting her CTR winners. During the Commuter Olympics campaign, she took a picture of her participant that won the "Go USA" Mittens and posted it on the SRTC blog and twitter accounts. In addition to promoting the CTR program to her staff, she is also promoting it to the general public as well. Each quarter, she hosts a BBQ for her participants. Going above and beyond, Staci asks for the grocery store managers when shopping for her BBQ. She tells them about the CTR program and then negotiates free items or a discount. Her last quarter BBQ, participants also enjoyed root beer floats.

"Promoting and encouraging trip reduction efforts is part of our culture at the Spokane Regional Transportation Council and I'm proud to say we have 80% of our staff using commute alternatives." Staci said. "I love giving incentives and prizes to my CTR participants. It's rewarding to see them get excited and share their excitement with other staff members." Way to Go Staci!