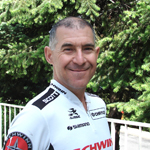 Donavon Garner
Most Valuable Commuter June 2014
Employer: Providence Sacred Heart Medical Center

After moving closer to work, Donavon Garner, Registered Nurse for Providence Sacred Heart Medical Center, started walking and bicycling to work. Now with a 1-mile commute, he's been using both modes since 2011. In the winter, he usually walks and during the summer months he usually rides his bike. He loves the fact that he has the options of choosing either one when he wakes up.

Working a swing shift, most people would see walking or bicycling at night as a challenge, but Donavon doesn't. Being aware of your surroundings and walking with confidence, it becomes second nature after a while. "I've been walking and bicycling to work for three years and I love it! I wish I would have tried it when I lived further away," admits Donavon. "It's great for my heart and an awesome way to "de-stress" while enjoying the fresh air and outdoors!"

Employees see Donavon come in everyday either in his walking or bicycling clothes. He knows he is setting a good example for others and encourages others when he is asked about his commute. "Donavon always completes his calendar on MyCommute.org without fail and his positive attitude makes this ETC want to move closer to work so that I could enjoy walking, as well," smiled ETC, Lori Barschig. "He is very inspiring to everyone at Sacred Heart." Way to Go Donavon!