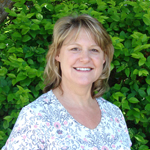 Debbie Denney
Most Valuable Commuter May 2014
Employer: Avista Corporation

For 14 years, Debbie Denney, Construction Scheduler for Avista Corporation, has been using commute alternatives. She first began by carpooling when she worked for Avista Advantage. After 8 years of carpooling, her and her carpool partner at different times took jobs at Avista Corporation. With a 26-mile commute to the Mission campus, they both decided to join a vanpool. For six years now, Debbie has been vanpooling and is one of the afternoon vanpool drivers.

"I see what a difference taking the vanpool makes every day when I see so many vehicles around us with only one person in them," Debbie explained. "Riding on the van you have the option of having a conversation with fellow vanpoolers, checking your emails or taking a nap. There is a huge savings benefit too. Driving I spend $50 a week. Taking the van I pay $45 a month. I also average 2 oil changes a year. Plus it is less wear on my vehicle & tires."

When employees ask her about vanpooling, she offers to send them the information. Once she sits down and starts writing, she writes at least two paragraphs on the benefits of vanpooling. ETC Catherine Cooper says "Debbie's full time vanpooling is an inspiration to all of us. She has a work around solution for every excuse not to vanpool when talking with employees, even "I can't give up my car" fear. Her dedication and determination to vanpool full time is admirable and is a great example for our employees to follow." Way to Go Debbie!