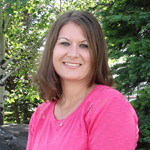 Angel Nieman
Most Valuable Commuter April 2014
Employer: Zak! Designs, Inc.

With a 7 mile one way commute, Angel Nieman, Warehouse Supervisor for Zak! Designs, Inc., carpools 5 days a week and has been doing it for nearly 9 years. "The company to and from work is the best part about carpooling," smiled Angel. "I also love the fact that I don't have to drive all the time and I don't have to fill up my gas tank as much." Driving every other week keeps it simple and they don't have to exchange money. They are also very flexible. Typically Angel schedules any errands and appointment on the weeks that she drives. If Angel needs to drive, her and her carpool partner just trade a driving day.

The support of Zak Designs has also been a key in keeping this carpool on the road. In the event that Angel or her carpool partner has to work late, they are allowed to flex their schedules to accommodate for carpooling. As a supervisor, Angel encourages her employees to participate. She keeps them informed about the CTR program, promotions and guaranteed ride home program.

Having a great role model, Angel's mom, Coral Ebel, has been carpooling for more than eleven year and was a Zak! Designs MVC in April 2011. ETC, Brenda Wheeler says "Angel is very dedicated carpooling 5 days a week. She shines because of all of the gallons of gas she has saved and the amount of emission she has reduced over the last 9 years." Way to Go Angel!