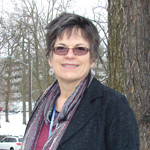 Diane Bisson
Most Valuable Commuter March 2014
Employer: Providence Sacred Heart Medical Center

With a 20 mile roundtrip commute, Diane Bison, Surgery Billing Manager for Providence Sacred Heart Medical Center has been vanpooling to work for over three years. Seeing emails from her ETC and information posted at work about CTR and her personal circumstances changing, Diane decided to give vanpooling a try. Within weeks of joining, Diane was hooked and opted to be a back-up driver as well.

Diane proudly says, "I use a commute alternative to help save the environment, not just for saving money. I have grandchildren and I want a healthy environment for them to grow up in and for the future. In addition, vanpooling has allowed me to get to know other people that I probably would never have had the opportunity to meet."

Being the key contact for any questions interested riders might have, Diane is consistently promoting and sharing the benefits of using a commute alternative to employees. A great talking point was her own challenge to see how long she can drive her car on one tank of gas. The longest she has gone so far is four weeks! ETC Lori Barschig says "Diane is just a pretty remarkable woman and I am happy to see her recognized as it is quite obvious that she sets a great example for all of us!!" Way to Go Diane!