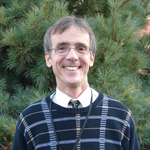 Mark Totman
Most Valuable Commuter December 2013
Employer: Spokane County

After moving closer to town and his wife needing the car, Mark Totman, Legal Office Assistant for Spokane County decided he wanted to help make the future better for the next generation. He felt the bus was a great way to help and has been riding the bus daily now for 15 years. Mark doesn't feel he has any challenges to riding the bus even though he walks three blocks to his bus stop every day. The walk is a great way to help clear the mind and fill his lungs with fresh air.

Now a one car family, Mark sees many benefits to riding the bus including saving money on gas, lowering car insurance, prolonging the life of his car, reducing stress, air pollution and fossil fuel consumption. Plus over the years, he has gained many friendships and considers the people he rides the bus with as his commuting family. "We may not live forever, but I'm going to do what I can while I'm
here." Mark passionately said. "To quote from the song, "We are the World" ......"There's a world we live in, we're saving our own lives...." If each of us performed one small part..........!!"

ETC, Don McDowell said, "In my 15 years as an ETC, I have yet to meet a more dedicated CTR member than Mark Totman. It's evident when talking to him that he loves our earth and believes in doing his part to help it. Riding the bus is the easy part for Mark. He is an inspiration to all." Way to Go Mark!