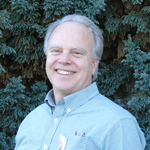 Don Watts
Most Valuable Commuter November 2013
Employer: WA State ESD Claims Center

As the primary driver, Don Watts, Adjudicator for WA State ESD Telecenter, has been vanpooling for nearly 11 years. Cost saving was and still is his biggest motivator and incentive for vanpooling. With a 16 mile one way trip and owning a big truck, he would have to fill up his gas tank at least twice a month. With it costing $100 a tank, Don saves $200 a month in gas alone.

"The savings on fuel and wear and tear on my truck is a big plus. For the last seven or eight years I have saved more than 51,000 miles of use on my truck, which is what our van currently has on its odometer," Don explained. Another benefit he enjoys is the camaraderie with the others on the van. It's a great way for Don to enjoy some humor and de-stress from what can be a pretty stressful job.

His vanpool partners also appreciate his willingness to arrive early, warm up the van and remove the snow or ice off the windows so they can leave on time. Previous ETC, Conni Ellern, nominated Don and said, "I have found Don to be a Shining Star Commuter for our Claims Center. He has been a faithful everyday driver of our vanpool for years and that is a very heavy responsibility to assume. He is very deserving of this honor!" Way to Go Don!