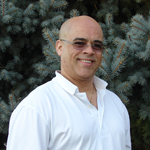 Coco Oquendo
Most Valuable Commuter October 2013
Employer: Shriners Hospitals for Children

For over three years, Coco Oquendo, a nurse for Shriners Hospitals for Children, has been carpooling to work with his wife and 1 or 2 other employees. High gas prices are what initially got Coco to start carpooling. Now he carpools because he enjoys sharing his commute with other people. Playing games during the commute like slug bug (without the slugs) keeps it fun and lighthearted.

Working in the clinic, Coco occasionally finishes his day early. He could easily drive himself, but instead he makes the choice to carpool and wait for his carpool partners to finish their day. "I love sharing my commute with other people. It's nice to have someone to talk to during the drive to and from work," smiled Coco. "Plus as a bonus, I save money, help the planet and have less wear and tear on my car."

Regularly filling out his commute calendar, Coco also shares the benefits of carpooling with other employees. ETC, Andi Gordon said, "I nominated Coco because he is diligent and enthusiastic. He loves what using a commute alternative does for him but also what it does for the planet." Way to Go Coco!