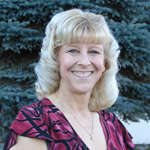 Chris Thompson
All Star Coach December 2013
Employer: City of Spokane Valley

With 84 employees, Chris Thompson, Office Assistant for the City of Spokane Valley, has increased her CTR participation numbers every year since becoming the Employee Transportation Coordinator nearly 6 years ago. In 2007, she had 8 employees participating and filling out their commute calendar. Currently, Chris now has 62 employees participating and filling out their commute calendars.

CTR elements include a guaranteed ride home program, lockers, bike racks and a company car for off-site business meetings. In addition, 75% of the employees work a compressed work schedule. Chris's enthusiasm and dedication are the driving force behind her success. One-on-one communication with employees, participating in all CTR campaigns and attending all CTR networking events to help generate new ideas for promoting CTR are keys to keeping her program top of mind amongst employees.

Her success showed in her recent CTR surveys too! Yielding a 99% response rate on her surveys, Chris successfully helped her worksite achieve a 15.3% reduction in drive alone rate. Chris proudly said, "I'm privileged to have the opportunity to help employees find a commute alternative, reducing the number of vehicles on the road and saving employees money." Way to Go Chris!