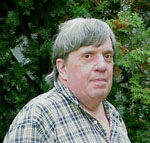 Rick Bowell
All Star Coach September 2003
Employer: Lakeland Village
Occupation: Administrator
Hobbies: Golfing and flying a Cessna
Starting a financial incentive program three years ago, Rick Bowell has watched his CTR program flourish with success. With limited transportation choices and located in a remote area, Rick subsidizes bus passes and carpools. As a result, Lakeland Village's survey results this year showed that 61 percent of his 564 employees use a commute alternative to driving alone.


Rick is quick to give all the credit to his employees for making his CTR program successful. He utilizes payroll stuffers, flyers and posters to get the word out about promotions and incentives. His greatest asset, though, are his employees talking it up with one another.


The management team is also another key to Rick's success. "I can't do it without them," said Rick. "The accomplishments we have been able to achieve are a direct result of management support." Other strong CTR elements include a Guaranteed Ride Home program, preferred parking and compressed work schedules. Way to Go Rick!