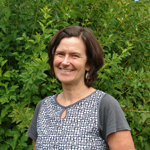 Kelly LaGruta
Most Valuable Commuter September 2013
Employer: EWU/WSU Riverpoint Campus

Kelly LaGrutta, Academic Coordinator for EWU/WSU Riverpoint Campus, always wanted to live in a place where she could ride her bike to work and with a 4.5 mile commute she decided to give it a try 6 years ago. She rode during the summer months and when the weather changed she decided to give the bus a try. Once she started riding the bus, she loved it! So much so that she gave up her parking pass.

"Commuting by bus and walking to campus allows me to experience the vibrant urban vibe of downtown Spokane, as well as enjoy a daily walk through beautiful Riverfront Park. And, when I bike to work I am able to connect with my neighborhood while enjoying a peaceful ride to work." Being hit by a truck during her walk from the Plaza to the campus last December didn't deter Kelly. With extensive injuries and limited mobility, Kelly began riding the bus about a month after her accident. Gaining strength and overcoming her fear of crossing the street, Kelly successfully returned to her regular routine of riding the bus daily and walking again from the Plaza to the campus.

Employees, Judith Van Dongen and David Eagle nominated Kelly and say, "Kelly has used a combination of bus riding, walking and biking to get to work for years. She does this because she values the concept of sustainability and is concerned with the size of her ecological foot print. To Kelly it's just the right thing to do." Way to Go Kelly!