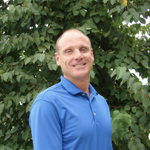 Rob Wagner
Most Valuable Commuter August 2013
Employer: Avista Corporation

A lunch time bicycle excursion with a few co-workers led Rob Wagner, Business Analyst at Avista Corporation to another ride, then another ride which led to a challenge to ride his bike to work. Since that challenge in 1992, Rob has been riding his bike to work and now can't imagine not riding.

"Bicycling to work is a great way to combine something I have to do, commute, with something I love to do, exercise," simply stated Rob. "Plus whenever I'm stressed at the end of the day, within the first mile of my ride home I can feel the tension melting away." Temporarily being relocated to the Mirabeau office and experiencing a 30 minute longer commute didn't stop Rob. Being creative with his longer commute and while training for a triathlon, Rob drives to work, he swims or runs during the lunch hour and rides his bike home. The next day he reverses his schedule and continues it through the week. This allows him to continue riding to work and train for the triathlon.

ETC, Catherine Cooper, says, "A humble and non-assuming manner best describes Rob. For him bicycling to work is a way of life and no big deal. Yet, for the rest of us, who see his continual dedication to riding day after day, he is an amazing bicycle commuter." Way to Go Rob!