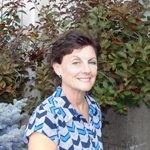 Nancy Wilbert
Most Valuable Commuter July 2013
Employer: Inland Northwest Blood Center

With over 40 years of using commute alternatives, Nancy Wilbert, Finance Executive Coordinator has been carpooling to work daily with her husband for 9 years while working for the Inland Northwest Blood Center and prior to that for 3 years. Her passion to use commute alternatives began when she graduated from high school. With her move to Spokane, Nancy quickly found a bus and began riding daily for 6 years then continued to ride the bus and carpool as often as she could while raising her children.

With a strong belief in reducing her carbon footprint, Nancy sees no reason to have two cars on the road. "Carpooling just makes sense for me," Nancy zealously said. "And if I couldn't carpool, I'd ride the bus again. With a 20 mile roundtrip commute, it makes an impact! Plus, I get to spend more time with my husband, I'm more efficient by combining our errands and appointments together plus there is less wear and tear on our vehicles." Her commitment to carpooling extends farther than just her commute. Carpooling to lunch engagements, social activities and business commitments, Nancy insists on paying for parking since she sees such a savings by carpooling to work.

Inspired by his mom's passion to reduce her carbon footprint and the dedication to using commute alternatives while growing up, her son who recently graduated from college is an avid bus rider now. ETC, Shirley Mace says, "Nancy is a shining example of a committed commuter! Her passion to reduce carbon footprints is an inspiration to all the employees here at Inland Northwest Blood Center." Way to Go Nancy!