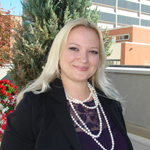 Brooke Ruchert
All Star Coach September 2013
Employer: Sterling Bank

As the ETC for over two years, Brooke Ruchert at Sterling Bank sets an outstanding example for employees to follow by riding the bus daily and on Tuesday and Thursday evenings she carpools home with her workout partner. With over 500 employees, Brooke continually markets her CTR program elements including new hire orientation, guaranteed ride home, lockers, showers, gym, indoor bike storage, subsidies for bus, vanpool and bikers, CTR intranet page, email reminders, facts on reduced carbons and monthly prize drawings.

An advocate for CTR, Brooke helped the Seattle branch when they self-identified by guiding the branch in setting up their CTR program. During the recent CTR survey cycle, Brooke offered incentives including a $100 gift card, $25 gift card and 4 - $10 gift cards which garnered an 87% response rate. In July she helped the HR benefits team coordinate an annual walking competition. A total of 177 four-person teams participated across the company, logging nearly 171 million steps.

"The management support for the CTR program here at Sterling Bank is amazing! Our participation continues to grow and I'm proud that our summer walking competition helped increase our walking commute trips from 0 in May to 13 employees walking to work in July," Brooke enthusiastically replied. "All of our CTR participants make an impact in our community by helping reduce traffic congestion, air pollution and fuel consumption." Way to Go Brooke!