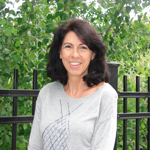 Leanne Mason
Most Valuable Commuter April 2013
Employer: Northwest Orthopaedic Specialists

Carpooling on average of three times a week, Leanne Mason, Chief Operations Officer for Northwest Orthopaedic Specialists sets an outstanding example for employees. Ten years ago with her husband working out in the mornings, Leanne decided they should join a gym and start carpooling to the gym and then on to work. An added bonus, carpooling has helped reduce Leanne's late nights at the office too. Going above and beyond to make it work, Leanne coordinates getting another ride from the gym to work on morning when her husband plays tennis and gets done later than her.

With a 9 mile commute, Leanne sees the benefits of using commute alternatives! "I am proud and happy to support the Commute Trip Reduction program," emphasized Leanne. "Participation by our employees helps contribute to the efficiency of Washington and our community by reducing air pollution, traffic congestion and fuel consumption. Carpooling myself, I appreciate the individual benefits including saving money, saving gas and putting fewer miles and wear and tear on my car."

A strong supporter of the CTR program, Leanne frequently shares her experience, challenges and encourages employees to participate. Sharing CTR results with staff and management reiterates the importance of the CTR program. ETC, Dawn Steinmetz says, "Leanne leads by example and is a true inspiration. I am very blessed to have such great management support and wish that all worksites had the same." Way to Go Leanne!