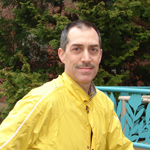 John Armentino
Most Valuable Commuter March 2013
Employer: Providence Sacred Heart Medical Center

All year round, John Armentino, Pharmacy Technician at Providence Sacred Heart Medical Center rides his bike to work. Recently John donated something to the hospital and had to drive to work to deliver it. That was his first time driving to work since 2010 and before that he could count on one hand how many times he has driven to work.

"I've been bicycling to work for 22 ½ years, which has allowed me to keep the one and only vehicle in my family for 20 years. I don't even consider driving," simply state John. "With a 3½ mile commute, if it's icy or unsafe to bicycle, I walk to work. And since my primary transportation to work year round is bicycling, I save 15% on my car insurance as well. Bicycling to work just makes cents to me. I work to live, live to bike and bike to work."

Working late in the evening, John makes sure he always follows the rules of the road for bicyclists and always stops for traffic lights no matter what time is riding. Wearing a helmet and reflective gear are also imperative elements that help keep him safe. Lori Barschig, ETC says "John has either cycled or walked to Sacred Heart from the moment he was hired. Over 22 years of not driving a car to work is more than stellar." Way to Go John!