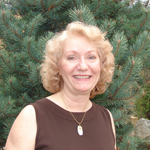 Karen Lorenz
Most Valuable Commuter February 2013
Employer: Avista Corporation

On average Karen Lorenz, Executive Assistant at Avista Corporation, rides the bus four days a week. With weekly evening meetings, Karen plans her errands on the days she has to drive to work, so she can ride the bus as often as possible. Wanting to preserve the life of her older car and when her husband took a new position and wasn't able to carpool any more after 12 year, Karen looked into riding the bus. With a 7 ½ mile commute, Karen drives to the park and ride and enjoys a 35 minute commute on the bus now.

"Riding the bus gives me time to read my favorite books," Karen happily explained. "I'm able to sit back, relax and let someone else worry about the other drivers and inclement weather. With a 3-4 block walk to my bus stop, I also get in some exercise for the day. Plus I save money while helping the environment."

Riding the bus brings back fond memories of her grandma who rode the bus up into her 90's and she is proud to follow in her grandma's footsteps. Karen shares her story and the benefits about riding the bus as often as she can to other employees, reiterating it's easy and fun! Catherine Cooper, ETC says "Karen is a shining example for employees to follow and true ambassador to our CTR program at Avista." Way to Go Karen!