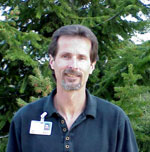 Mike Anson
Most Valuable Commuter February 2004
Employer: Sacred Heart Medical Center
Occupation: Biomedical Electronic Technician

As one of the primary drivers, Mike has been dedicated to vanpooling for over eleven years. Originating in Liberty Lake, this vanpool carries an average of nine riders each day. Carpooling for four years prior made it an easy transition for Mike to start vanpooling.
He admits he would like to say he is vanpooling to help the environment, but really it's for financial reasons. Sharing driving responsibilities with another co-worker allows Mike to ride the vanpool free every other month. "When I'm not driving, I love to relax and take a nap," smiled Mike.
With considerably less wear and tear and fewer miles being driven, Mike has had the luxury of keeping the same car for the last ten years. Mike also goes above and beyond by administering the bookkeeping for his van. "I'm so proud of Mike's efforts with the CTR program and being so dedicated for so many years," said Lori Barschig, ETC, Sacred Heart Medical Center. "I can always count on him!" Way to Go Mike!