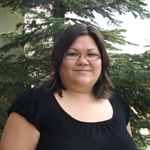 Jara Deaugustino
Most Valuable Commute January 2013
Employer: Zak Designs, Inc.

With an 11 mile one-way commute, Jara Deaugustino, Web Developer for Zak Designs, Inc. carpools to work daily. Twice a week, her carpool picks up another employee making it a three person carpool two days a week. As a one car family and her husband needing their car during the day, using a commute alterative is Jara's way to help reduce mileage on their car and keep gas expenses down.

Before carpooling, Jara rode the bus for over two years. With management support, she was able to flex her work schedule when she found two employees that lived near her and wanted to carpool. Her biggest challenge is when someone is sick or out of town. Again with management support, Jara is able to flex her schedule so she can ride the bus on those days or find someone else to carpool with. "Carpooling is a fantastic way to get to work! It's great to get to know people I commute with and I also love the fact that I save time and conserve fuel! "

Seeing the benefits of using commute alternatives, Jara encourages other employees to give it a try, especially when she finds employees that live near her and can potentially carpool with her. Mike Jones, Program Manager for the CTR Program at Zak Designs nominated Jara and says "Jara is not only committed to using alternative modes of transportation, she is one of Zak Designs most dedicated employees." Way to Go Jara!