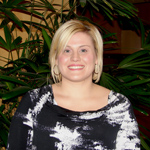 Esther Sasse
All Star Coach March 2013
Employer: Washington Trust Bank

Walking her talk by carpooling to work, Esther Sasse, Human Resources Administrative Assistant and ETC for Washington Trust Bank sets a great example for her employees to follow. Before moving to Spokane, Esther had a 70 mile one-way commute and carpooled with her mom to work. Knowing and understanding the benefits and challenges employees face when using commute alternatives is beneficial when marketing her CTR program to nearly 500 employees.

Her CTR program elements include ATM and banking services, bus and vanpool subsidies, 12 bank cars are available for meetings, personal errands and guaranteed ride homes for employees with emergencies who use a commute alterative, discounted parking for carpoolers, bike racks in the parking garage and monthly CTR drawings. Keeping things fun, Esther randomly sends out emails with questions relating to CTR. The first employee that gets back to her with the answer gets a prize. Each quarter, she holds a Refer a Friend contest and rewards the winners with a pastry or $5 gift card. Making the presentation lively keeps everyone talking about the CTR program after she leaves.

With strong management support, Esther keeps the CTR program in the forefront of all employees and continually encourages participation. "I love interacting with employees and assisting them in finding a commute alternative that works for them," smiled Esther. "It's rewarding to know that I am helping them save money, reduce stress, have less wear and tear on their car while helping our environment and community" Way to Go Esther!