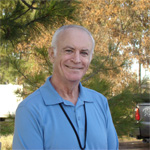 Scott Nichols
Most Valuable Commuters November 2012
Employer: VA Medical Center

With a 30 mile commute and a vanpool subsidy available, it only made sense for Scott Nichols, Medical File Clerk for VA Medical Center to give vanpooling a try. As the primary driver, Scott has been vanpooling five days a week for over six years. A true vanpool advocate, he continually encourages others to give vanpooling a try. Over the past three years, he has recruited so many people to vanpool that they had to split his vanpool twice and there is still a waiting list to join.

Vanpooling bring many benefits to Scott and he loves sharing with other employees. "I save a tank of gas each week by riding the vanpool to work. The vanpool subsidy and saving money from not driving, makes vanpooling a very cost effective option. Plus, I get to visit with a great group of people every morning and on the way home which makes the commute seem much shorter," smiled Scott.

Another great perk that he appreciates is helping the environment. Each month Scott eliminates over 1,300 miles being driven on our roadways and the vanpool with 7 passengers eliminates over 9,000 miles each month. ETC, Dan Grimm says, "Scott has always been my #1 go to guy for help, advice, or to use as an example when I have issues with other vans. His hard work and dedication is key to the success of the VA vanpool program." Way to Go Scott!