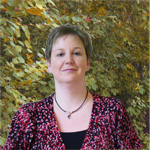 Emily Jaquins
Most Valuable Commuter October 2012
Employer: West Corporation, Downtown

After finding out CTR participation was low in her department, Emily Jaquins, Operations Manager for West Corporation, made it her mission to increase participation. With early morning meetings two days a week and wanting to set a good example for employees to follow, Emily committed to carpooling at least three days a week over three years ago.

In monthly meetings she encourages employees to use commute alternatives and makes sure participants fill out their commute calendar. She also has the new hire trainers inform new employees about the CTR program and how important it is. She then follows up with new hires and encourages participation. "I believe it's important to travel green whenever possible," stated Emily. "Even if you can't participate every day, using a commute alternative is the right thing to do on the days you can and I hope others give it a try."

ETC, Maureen McElroy says "Emily's enthusiasm for the CTR program is off the charts! As a manager she is not afraid to walk her talk. She has taken her group from 12 participants in January to 72 participants in the month of October!" With 140 employees in her department, Emily's ultimate goal is to have every employee in her department participate at least once every month. Way to Go Emily!