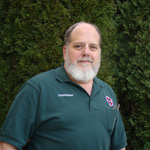 Chris Barnes
Most Valuable Commuter December 2012
Employer: Spokane County

With a demanding schedule and frequently being on-call, Chris Barnes, Emergency Management Program Specialist for Spokane County, has managed to ride the bus to work 4 days a week for over six years, in addition to working a compressed work schedule. With a company car available for offsite meetings and the ability to access his emails and do work at home, these elements have kept him from driving to the county on numerous occasions.

"Riding the bus is a huge stress reliever for me. When I get on the bus, I can sit and relax, talk to other bus riders and enjoy my commute, plus I don't have to drive in traffic. Environmentally, I'm doing the right thing and I'm also saving money. It doesn't get much better than that!" simply stated Chris. Between him and his wife, they only drive about 4,000 miles a year. And, with only paying $5 for his monthly bus pass, his commute costs him less than 25 cents a day.

ETC, Don McDowell says "Chris is one of those commuters that makes being an Employee Transportation Coordinator awesome! I plan on trying to find ways to use his enthusiasm to promote our program in other ways. He really is one of MY most valuable commuters." Way to Go Chris!