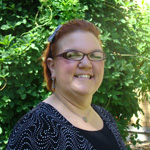 Raven Perry
Most Valuable Commuter September 2012
Employer: Avista Corporation

With gas prices increasing, Raven Perry, Construction Services Specialist for Avista Corporation, started researching riding the bus to work. Her biggest concern was her kids and if there was an emergency what would she do. When she found out Avista had a Guaranteed Ride Home program, it eliminated that barrier. Plus she found out that Avista offered bus subsidies for employees that ride the bus. With those two benefits, she decided to give it a trial run. Once she did, she was hooked. Depending on her schedule and her kids' schedules, Raven rides the bus now 3 to 4 times a week.

"By riding the bus, I get to sit back, relax and let someone else do the driving," Raven enthusiastically said. "I don't have to worry about traffic, other drivers or bad weather. It's lifted a big weight from my shoulders. And, the real bonus is saving money!" Riding the bus also doubles as her exercise, because she has to walk up two hills during her commute. Hating to be late, another benefit for Raven is having two different bus routes she can choose from depending on her schedule.

Catherine Cooper, ETC, says "It's great to have Raven on Board with CTR. She sets a great example how a little determination goes a long way to making a change from being a drive alone commuter." Way to Go Raven!