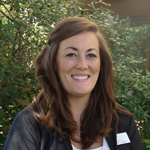 Dani Walker
Most Valuable Commute July 2012
Employer: Northwest Orthopaedic Specialists

For over four years and four days a week, Dani Walker, Practice Coordinator for Northwest Orthopaedic Specialists has been carpooling with her husband. Her 45-mile one way commute doesn't go without challenges though. She works an 8 hour shift and her husband works a 10 hour shift. Not wanting to give up her sleep and having extra time when she arrives at work, Dani styles her hair at work rather than doing it at home. She doesn't let the grief that her coworkers give her deter her either.

There are many benefits that she enjoys too. "I save over $200 a month by carpooling," Dani explained. "As a carpool rider, I don't have to worry about driving, which is especially nice during the winter months. We have less wear and tear on our car and we get to spend additional quality time together during our commute."

Being an outdoor enthusiast, Dani knows the benefits to the environment by carpooling to work. She regularly talks to employees and friends about her commute, bragging about how much money she saves and the extra time she gets to spend with her husband. Dawn Steinmetz, ETC says "Dani overcomes the challenges with start times and makes it work for her family. She sets a great example for other employees to follow." Way to Go Dani!