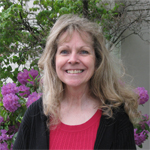 Kaye Balk
Most Valuable Commuter May 2012
Employer: Providence Sacred Heart Medical Center

Living in the Post Falls area with a 30-mile commute, Kaye Balk, Health Unit Coordinator for Providence Sacred Heart Medical Center went and talked to the ETC about her commute options after seeing a CTR poster. For over six years now, Kaye has been saving over $150 a month and puts few miles on her car by vanpooling to work. About two years ago when her original vanpool that started from the Coeur d'Alene area got too crowded, Kaye started recruiting employees. She recruited enough and was successful in starting her own vanpool from the Post Falls area.

As the bookkeeper and back up driver, Kaye's dedication and enthusiasm to vanpooling is apparent. She enjoys many benefits by vanpooling and encourages other employees to give it a try. "I love talking with my coworkers during my commute on the vanpool. I have developed strong friendships and have met people I would normally have not met because our workplace is so large," smiled Kaye. "It definitely makes the commute more fun and less stressful. Plus I save money and less wear and tear on my car."

With 11 people in the vanpool, Kaye doesn't have to worry as much about bad weather. In the event they got stuck or something happened, they count on each other to help. Lori Barschig, ETC, says "Kaye is a true people person and a wonderful asset to Sacred Heart's Commute Trip Reduction Program. Way to Go Kaye!