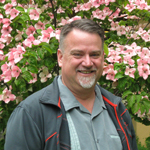 Virgil Crampton
Most Valuable Commuter April 2012
Employer: Spokane County Community Services

With a 60 mile one-way commute, Virgil Crampton, Senior Accountant for Spokane County Community Services, immediately started looking for a carpool partner when he took the position at the County over five years ago. He quickly found two employees that lived 15 miles away and that were along his commute route. Carpooling daily Virgil saves a lot of money, has less wear and tear on his car, and buys fewer tires for his car. Rotating drivers every week, Virgil drives every third week.

"With gas at nearly $4 a gallon, I save a lot by carpooling to work. It is also nice to have some down time to read and relax while sharing the driving duties," said Virgil. "I've also become good friends with my two carpool partners. Socializing and sharing stories makes our long commute seem much shorter. In addition to all the savings, I'm also helping the environment too."

Since Virgil and his carpool partners live in smaller cities, they schedule shopping trips to Costco and other stores. This eliminates extra trips and saves time on the weekends. Whenever he gets a chance, he talks about CTR to other employees. His goal is to find enough people living in his area to start a vanpool. Don McDowell, ETC says "Virgil Crampton is without a doubt a dedicated carpooler and CTR participant!" Way to Go Virgil!