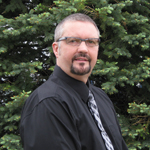 Steven Ray Tucker
All Star Coach June 2012
Employer: Trans-System, Inc.

Walking his talk by carpooling daily, Steven Ray Tucker, Regulatory Compliance Manager and ETC for Trans-System, Inc., sets an outstanding example for the 178 employees at his worksite. With one of the most challenging worksites to promote CTR, Steven's enthusiasm and dedication are key to his success.

Located on the east side of I-90 from the Medical Lake exit, his worksite has no bus service, biking and walking are not good or safe options for employees and vanpooling is very difficult with varying work shifts. With carpooling being the primary mode he promotes, his CTR elements include a CTR intranet site he started, emails, commute options board for displaying materials, internal guaranteed ride home program, preferred parking, and he holds prize drawing for company apparel for his participants.

"I really enjoy interacting with employees and educating them about the benefits of carpooling. By removing cars of the road, it helps the environment and our community by reducing air pollution, fuel consumption and traffic congestion," proudly stated Steven. When becoming the ETC three years ago, he had one employee filling out their commute calendar. On average, Steven now has 27 employees participating and filling out their commute calendar. With the barriers and challenges he faces, he was still able to reduce his drive alone rate by 2.5% during the last survey period. Way to Go Steven!