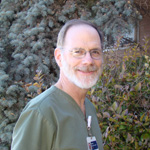 George Waldref
Most Valuable Commute March 2012
Employer: Providence Holy Family Hospital

With studded snow tires for winter biking, George Waldref, a registered nurse for Providence Holy Family Hospital, rides his bike to work daily, all year long and has been doing it for over 20 years. The most days he has missed in a year has only been three or four and that was a few years ago when the snow was so bad. With only one car in the family, George finds that riding his bike is faster and works better for him than driving to work. He also incorporates errands into his commute.

Riding his bike is a great source of exercise and a good stress reliever. "It's important for me to stay healthy for my grandkids," George smiled. "I also want to do my part in helping make the world a better place for them, now and in the future. Bicycling is a great way to achieve both." Another way George helps the environment, and this is well known by employees at the hospital, is stopping and picking up recyclables during his commute and putting them in the recycle bins.

By recycling during his commute and riding his bike in the snow, he has brought a lot of awareness to what he is trying to achieve for the environment. His efforts generate a lot of conversation and it shows others it can be done. ETC, Lori Barschig says, "George never skips a beat! He chooses this mode of transportation for all the right reasons, exercise, health and his strong dedication to the environment." Way to Go George!