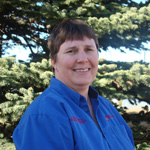 Teresa Kruger
All Star Coach March 2012
Employer: EWU/WSU Riverpoint Campus

Marketing the CTR program to 600 employees with a diverse campus, Teresa Kruger, ETC and Parking Supervisor for EWU/WSU Riverpoint Campus is very creative with her budget and promotional efforts. Supplementing her budget by recycling ink cartridges earns the CTR program an additional $300 a year. When coordinating holiday fairs and yard sales at the campus, Teresa charges by the space and uses the proceeds for her CTR program.

With strong management support, CTR program elements include new hire orientation, showers, lockers, commuter bicycle for meetings, guaranteed ride home program, bus subsidies, preferred parking for carpools with 3 or more people, Go Green newsletter that focuses on CTR and monthly prize drawings. About every other month, Teresa and her 7 CTR committee members plan events or activities to encourage participation including a Spring coffee social, Irish potato luncheon, ice cream social, BBQ in August and they partner with Avista to hold the Commuter Olympics along the Centennial Trail.

"I believe walking my talk by riding the bus daily, in addition to my CTR committee doing the same, is a key to our success," explained Teresa. "We understand challenges, but we also know the benefits. When you believe in the program, it makes it easier to talk to others and encourage them to use a commute alternative." Way to Go Teresa!