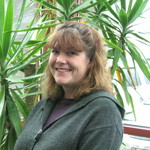 Tamara Norlander
Most Valuable Commuter October 2011
Employer: WA State ESD Telecenter

Carpooling for over three years, Tamara Norlander, Unemployment Insurance Specialist for Washington State ESD Telecenter, was determined to find another carpool partner after her coworker changed employment. When a good friend and coworker started looking for a new home, Tamara convinced her to look for a new home in Spirit Lake. Not only did Tamara convince one coworker, she convinced two coworkers to move. With a 34-mile one-way commute, she's been carpooling daily with her two new carpool partners for nearly a year.

With challenges to overcome and to continue carpooling, Tamara and her carpool partners change their shifts when each of them is required to work the late shift. Other employees really enjoy it, because it takes them off the late shift. Rotating drivers, this carpool also rotates seats so no one has to sit in the back seat the whole time. And, the driver gets to choose the music too.

When looking for a new car, Tamara really wanted to buy a convertible. Instead, she felt a Prius would be a better option for her commute. She now enjoys better gas mileage and the fact that it's better for the environment. ETC, Conni Ellern says, "Tamara is an excellent role model. She goes above and beyond the call of commuting! Tamara has made a difference here at the TeleCenter and I find her to be exemplary." Way to Go Tamara!