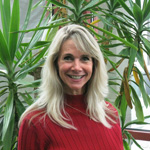 Conni Ellern
All Star Coach December 2011
Employer: WA State ESD Telecenter

As the ETC for almost two years and helping with the CTR program since 2008 at the Washington State ESD Telecenter, Conni Ellern's enthusiasm and advocacy for the CTR program are keys to her success. When Conni's vanpool first started, she campaigned for over a year and was successful in implementing a vanpool subsidy for all vanpoolers at her worksite. The ESD Telecenter now has three vanpools on the road due to her advocacy and determination.

With strong management support, Conni promotes the CTR program to 218 employees. CTR elements include a guaranteed ride home program, 14 preferred parking spots, bike racks, showers and lockers. Her main communication is through emails and her bulletin board. Starting her own internal ridematching system, Conni has employees put post it notes on the bulletin board with commute and contact information. "It works well and it was easy to implement and maintain," smiled Conni.

With limited parking, many employees have to park on the street. Conni's goal is to eliminate the parking on the street completely by increased participation in the CTR program. "It's very satisfying to know that there are fewer cars on the road due to the CTR program," Conni proudly stated. "It's good for the environment, employees save money and it's a great benefit to offer to our employees." Way to Go Conni!