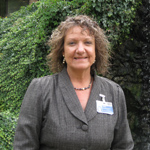 Jessie Upham
Most Valuable Commuter September 2011
Employer: Providence Sacred Heart Medical Center

Wanting to go green, challenge herself and be less dependent on her car, Jessie Upham, Administrative Assistant for Providence Sacred Heart Medical Center started walking and riding the bus on a daily basis about four months ago. Starting her commute with a 30 minute walk to her bus stop, she makes a transfer to get to the STA Plaza and from the plaza she frequently walks to Sacred Heart or occasionally will catch another transfer.

Not without challenges, Jesse's commute takes about an hour and fifteen minutes and if she were to drive alone it would only take her about 15 minutes. Jessie has embraced her commute to help her de-stress, have extra time for herself and get her exercise in for the day. "Riding the bus has also been a humbling experience too," said Jessie. "You see a lot of people on the bus that don't have choices. Some can't drive or have medical conditions and others just don't have the means. It has made me very appreciative of what I have and what I can do."

When Jessie comes walking up the hill from the plaza to Sacred Heart with her backpack in tow and looking as though she may have just left the gym, she says it's a good conversation starter. Taking advantage of the opportunity, Jessie talks to fellow employees about using commute alternatives and what a positive experience it is for her. ETC, Lori Barschig says "Jessie is so energetic and excited to share this positive lifestyle change with other employees. She went from high heeled pumps to tennis shoes with no troubles at all." Way to Go Jessie!