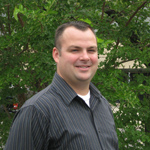 Stephen Moore
Most Valuable Commuter July 2011
Employer: WA State Department of L & I

With a 25 minute commute, Stephen Moore, Field Audit Manager at Washington State Department of L & I, started carpooling 4 years ago with his wife. His main motivator was to gain more family time with his wife and daughter. With his daughter's daycare near his work and his wife's employer very close, it just made sense to carpool. Although Stephen can flex his schedule and would prefer to work earlier and leave earlier, it doesn't work with his wife's schedule. Deciding to match his schedule with her schedule was an easy decision to make.

Carpooling more than 12 times during the month, Stephen benefits from the $1 a day subsidy he receives for participating in the CTR program at L & I. He also likes the fact that he is saving money and has less wear and tear on his truck, especially since they drive his wife's car to work. "As a supervisor, I talk with all new hires about the CTR program," Stephen stated. "If we need to flex their schedule so they can participate, it's an easy fix that helps everyone."

Going the extra distance, Stephen carpools with 2 other fellow National Guardsman to his monthly meetings at Fairchild. With a 22 mile commute each way, he helps take two cars off the road and saves a lot of miles from not being driven. ETC Nadine Grady says, "Stephen is a dedicated carpooler and readily demonstrates his enthusiasm about alternative commuting." Way to Go Stephen!