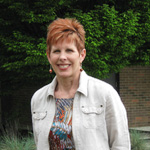 Sherry Miller
Most Valuable Commute June 2011
Employer: Eastern Washington University

Sherry Miller, Program Coordinator at Eastern Washington University, has been walking to work for nearly 39 years. Owning four different homes, each one has gotten her closer and closer to the campus. Enjoying a 10-minute walk to and from work, it takes her less time to walk than it would if she drove. When Sherry was growing up, her family didn't own a car so she walked everywhere. Attending EWU, then beginning her career at EWU, walking has always been her first choice for transportation.

When the bus system started, it opened up a lot of options for Sherry and she continues to frequently use it to go into downtown Spokane. "Driving is wasteful if you can ride the bus or walk," simply stated Sherry. Enjoying the outdoors and being in nature are a few of the many benefits she enjoys. Saving money on commuting costs and being a one car family with a two car garage, Sherry enjoys having the extra storage space too.

Everyone knows Sherry is a CTR advocate. She encourages employees to participate and tells them the benefits she experiences and shares the environmental impacts as well. Ed McEntire, ETC says, "Sherry exemplifies what an alternative commuter is all about! She shines in her outgoingness and her dedication to walking, both to work and in her daily home life." Way to Go Sherry!